Ainsley Beauchamp Certified Equine Therapist
Chiropractic Adjustment Massage Acupressure Reiki Alpha-Stim® Saddle Fitting

Meet Ainsley Services & Prices
Whether your horse is for pleasure or performance, keeping him structurally balanced significantly improves his athleticism and well-being.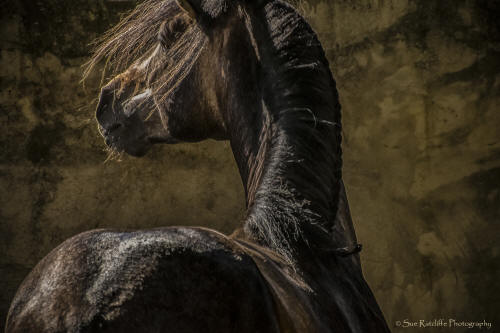 Spinal misalignment shows up in many ways, from obvious soreness, pain or lameness to changes in behavior such as when a good horse suddenly starts misbehaving.
The problem or performance issue usually begins as something quite subtle long before obvious symptoms are seen.
Horses in the hard physical work of showing or training, like any athlete, can easily misalign; the spine loses flexibility, muscles become stiff, and mobility is restricted. Tight muscles are subject to minor pulls or strains, the issue compounds until the horse that had just seemed slightly "off" is now truly uncomfortable or worse.
The misaligned horse may be unable to pick up a lead or travels with an inverted frame, bucks or swishes his tail during transitions – training issues often have their roots in spinal subluxation.
Pleasure horses and companions are equally susceptible; rough-housing with herd mates at pasture, slips and falls, or that occasional weekend warrior ride on an unfit horse can have you scratching your head looking at a "mystery lameness"; He is no longer feeling or is moving quite right.
Just like us, horses greatly benefit from keeping physically tuned up with regular chiropractic adjustment and massage to help injuries heal and maintain optimal movement. This treatment program is designed to bring healing, comfort and to improve the quality of life for any and all horses, whether your equine partner is a fuzzy best friend in the backyard or the highest caliber of competing athlete.
Does my horse need a chiropractic adjustment?
Is your horse exhibiting any of these signs of misalignment?
Has had an injury or trauma

Stiffness or soft tissue swelling

Pointing a front foot, cocking a hind

Shifting weight

Short strided, stumbling or tripping

Dragging a hind toe

Has a "mystery lameness"
Under saddle:
Is heavy on the forehand

Travels in an inverted frame - head high

Dog tracking

Has difficulty flexing or is unwilling to bend on the circle

Popping a shoulder

Inability to pick up or hold a lead

Has difficulty maintaining collection or impulsion

Difficulty going up or down hill

Increases resistance/ decreased performance

Rushes through his work

Cold backed or bucking

Is in hard work or is a performance horse
Behavioral problems related to back pain:
Objects to be saddled

Doesn't stand still for mounting

Resistant to work

Won't relax under saddle

Fidgets

Paws at the hitching rail or in cross-ties

Shows a bad attitude
Equine Therapy is not a replacement for veterinary medicine.
How does therapy help?
When the spinal vertebrae are misaligned the nerves traveling out from the spinal cord are unable to function properly. Nerves connect through every aspect of your horse's body from brain to muscles to viscera. Subluxation, or misalignment, causes irritation to the nerves creating a domino effect; the spine becomes less flexible, muscles become tight and sore, movement and mobility are affected, performance and ability decrease.
The horse becomes uncomfortable, stiff, and resistant; he is physically unable to perform with the level of athleticism his conformation predicted. Muscle spasms and pain cause the horse to change his posture and move incorrectly. Protecting the compromised, painful area creates further discomfort and damage due to the added stresses of weight referral.
By adjusting the spine back to its optimal alignment, the body begins to return to homeostasis, the natural balance of health and vibrancy within every living body. Chiropractic treatment is followed by acupressure for sore stress points, areas of the body where the tendons and muscles come together and have become painfully tight. These areas quickly relax, bringing relief to the associated muscles.
Massage is then used, further softening the affected muscles, increasing blood flow to maximize healing. With blood flow, much needed oxygen and nutrients are carried into the cells within the muscles, toxins and lactic acid are carried away, helping the horse's body to heal itself efficiently.
The therapeutic treatment is finished by easy stretching, to increase flexibility and help muscle memory adjust the new, more mobile movement. This important step also helps the horse himself trust that he can once again move the affected area with more comfort and improved range of motion.
What can I expect?
Your equine therapist will take a detailed history of your horse, including your primary complaint, the type of work the horse does, medical history, any previous injuries, veterinary care, surgeries, medications, x-ray and/or flexion tests results.
The horse is walked and trotted out for gait analysis and to assess possible lameness issues.
The physical exam involves palpating for misalignments and checking stress points.
The chiropractic adjustments are gentle and effective; most horses feel relief immediately and will show it by licking and chewing, sighing, and showing other signs of relaxation as the treatment progresses.
Acupressure applied to any sore stress points.
Massage where stress points have indicated and for tight or puffy muscles.
Finish with a series of easy stretches.
Horse is trotted out again to see improvements in gait and comfort.
You may be left with follow-up instructions for after care depending on the individual case.
Recommended frequency:
Horses are well designed to hold spinal adjustments; results show quickly and horses usually feel more comfortable with the initial treatment. A 2nd follow up treatment 2 weeks to a month later is suggested for maximum benefit and to ensure the alignment is holding.
For performance horses or those in hard work/training, monthly maintenance is recommended for optimal performance.
For more casual rider, twice a year, unless there's been a trauma or injury, is usually sufficient to help keep your horse feeling his very best.
Horses recovering from injury or trauma are assessed and an individual treatment plan decided on as needed.
What is Reiki?
Reiki is an ancient healing practice revitalized in 1920's Japan. It's a non-invasive "do no harm" energy work that creates feelings of well-being, security and relaxation. Anecdotal evidence abounds of Reiki helping the body to heal itself quickly, without possibly toxic medications or interventions where the side effects are nearly as detrimental as the initial complaint.
The beauty of doing Reiki with horses is there is no placebo effect. Animals love the work, yawning, licking, chewing and obviously relaxing into the treatment. If done in a herd, it's common to find a small line-up of horses waiting patiently for a turn. They are naturally attracted to the energy.
Reiki, long considered an alternative healing modality, is becoming more accepted and promoted within the mainstream. Dr. Mehmet Oz, famous cardiologist and medical talk show host, has announced on his program that the one thing every viewer should do for their own wellness is to try a Reiki treatment. Dr. Oz's wife is a Reiki master, and he credits her for being the sole remedy for his migraine headaches. More recently, there are now insurance companies within Canada that offer Reiki as a paid benefit in their extended health care packages (for humans).
Reiki energy is an important part of the therapy work. It helps the horse to stay calm, to relax and trust the practitioner, relieve soreness and speed healing.